Urethane Casting prototype parts
Global Delivery In 10 Days Or Less
Urethane Casting, Quickly And Cost-effectively Test Your Design Ideas
At Hemtom Model, we usually complete prototyping products by CNC machining, 3D printing, vacuum casting, sheet metal processing and subsequent surface treatment.
Vacuum casting is a process that can test your design concepts quickly and cost-effectively. so what is vacuum casting and how does it work?
Make a simple model by 3D printing or CNC machining, then mix 2~3 chemical ingredients (liquid) thoroughly. They are injected into the mold cavity using vacuum infusion technology. After a certain period of time, the mixed chemical raw materials are solidified. Finally, it is formed into the same workpiece as the original.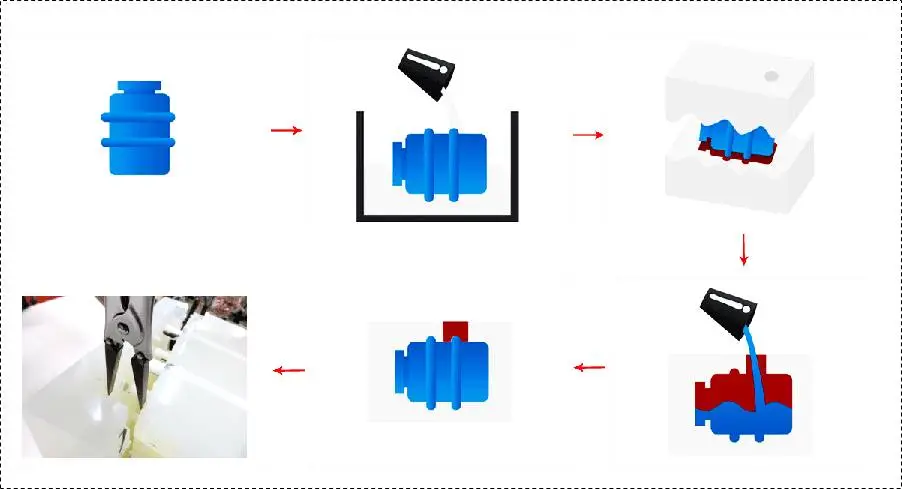 Technical Guide for Vacuum Casting
Material
HeiCast Japan-Hei Cast 8751 (PC Like), Hei Casti-8150(ABS Like), Hei Cast 8400(Rubber Like), Hei Cast8550(PP like).
Pelnox Japan-MU-52/55/56 (ABS Like), MU-858(Fire-frame ABS Like) MU-70(PPl Like), MU-89(Rubberl Like).
Axson France-PX 527(PC Like), PX5210(PMMA Like), PX 223HT/118PA(ABS Like), PX245 (PA Like), UP 5690(PP/HDPE Like).
Synthene France-PR 700(ABS Like), PR 740(PP/HDPE Like)PR 751(Thermal Resistance), PR2900(PA/PC Like), PRC1708(PMMA Like).
Standard Accuracy
Standard tolerance on ±0.15mm/100mm, with precision able to reach ±0.05 mm.
Maximum Size
The vacuum equipment can hold 2.0M*1.2M*1.0M mold specifications.
Minimum Wall
The minimum wall thickness is 0.5mm, the best is 1.5mm~2.5mm to ensure the mold is filled properly.
Lifetime of  Mold
Typical quantities up to 20-25 copies per mold.
Leading Time
Up to 200 copies can be produced in 7 to 10 days
Finishing Services
Colored, textured, painted, coated, clear polished, insert, and over-molding.
5 Reasons To Use Vacuum Casting For Prototyping Products
The cost is low and the product production cycle is relatively short. There is less waste, and the processing cost is much lower than CNC machining and 3D printing.
It is suitable for small-batch product processing and production. After making an original model version, it can be copied according to the original version, while CNC machining requires lathes to make hand plates one by one.
 Good molding operability. The soft molds after curing and forming are all transparent or translucent, with good tensile strength and easy to cut and type.
 The chance of processing failure is small. As long as there is no problem with the original model version, the replica will naturally not go wrong.
Good repeatability. The silicone used for molding has good fluidity before curing, and with vacuum defoaming, the detailed structure and decoration of the model can be accurately maintained.
However, there are also many shortcomings in the vacuum casting mold, such as easy shrinkage and deformation, because it will shrink after being heated at high temperature and then cooled, resulting in deformation, and the general error is about 0.2mm.
In addition, vacuum casting mold prototypes generally can only withstand high temperatures of about 60 degrees, and are also lower than CNC prototypes in terms of strength and hardness.
We strictly abide by the confidentiality agreement and do not disclose customer projects without permission. 
Very grateful for the generosity of these customers, the following are the projects allowed to be displayed.
If you want to enquire or have any questions, please fill out the form below and we will contact you as soon as possible.